In addition to the existing collection, these are original handmade greeting cards I have created for sale, based on antique valentines. Each card is unique, and include layers of illustration and antique materials carefully reproduced to add timeless artistry and design.
Collector's Cards
2007 Love and Romance
2009 Rose Heart
2012 Leap Year Lace
These cards can be used throughout the year but note that the Deco and Lace cards include writing specific to the Leap Year. You can learn more about leap year cards by clicking here.
Also shown below are small cards for everyday use, whether for Love, Friendship, Birthday, Get Well, Anniversary, Wedding, or other occasions. Cards made from fine Fabriano Mediovalis handmade Italian paper and embellished with pure German silver glitter, and adapted from Victorian cards in the Nancy Rosin Collection.
As long as my cache of vintage die-cut lace paper is available, I will create a special Collector's Card, hopefully you will want to collect them for each year. All cards are handmade, signed, and embellished with pure silver glitter.

Unfortunately, due to increased postal costs, shipping and handling is now $5.00 for most orders. For larger orders, I will contact you.
You can click on the full card images below to display them at a larger size in a separate window. Note the images will be shown in high resolution so that you can see the fine detail. Your browser will likely reduce it to fit in the window; if so click once on the image to restore it to full size, and use horizontal and vertical scrollbars to see the entire image, which is larger than your screen. If it seems that you click and nothing is displayed, move your browser window to show the separate window or tab displayed behind it.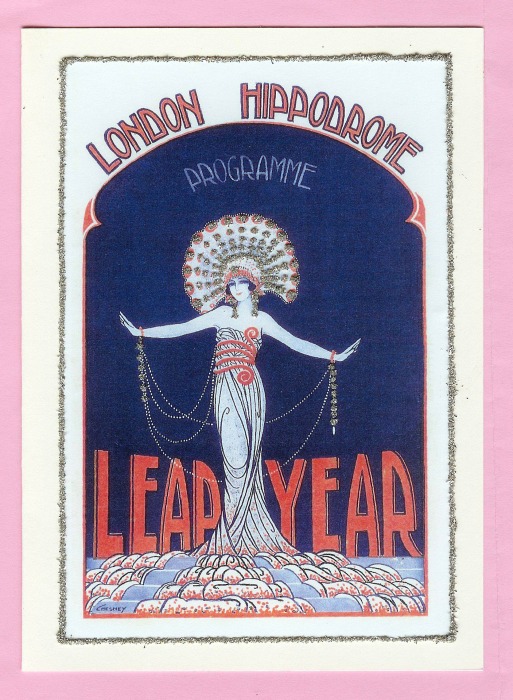 Click to view a larger image in another window.


Deco Leap Year (size 5"x7") A dazzling, silver glitter encrusted design, which can be sent ALL during the year! This is the cover of a "programme" from the London Hippodrome Theater, 1924. Price $10.00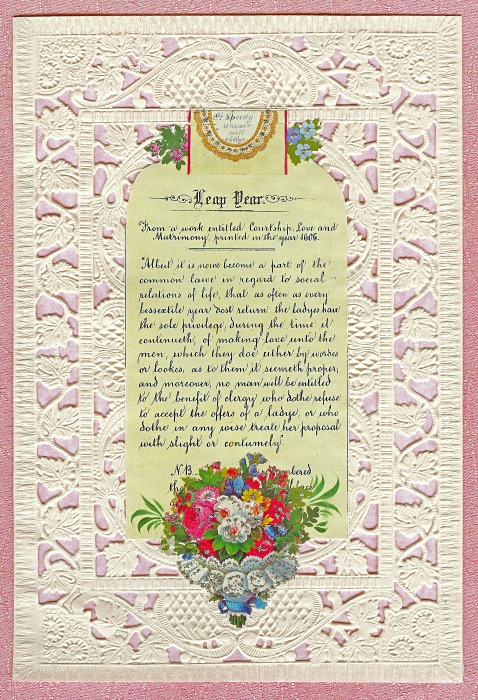 Click to view a larger image in another window.


Leap Year Lace (size 8 1/2" x 5 3/4") Vintage die-cut lace is adorned with a reproduction of a mid-nineteenth century Valentine, describing Leap Year in the year 1606. Please view the two closeups of details below, and click the image above to view the larger version. Embellished with imported glass glitter, and with a pink insert, this is a gem for a special Valentine - or the other 364 days of the year! Price: $14.00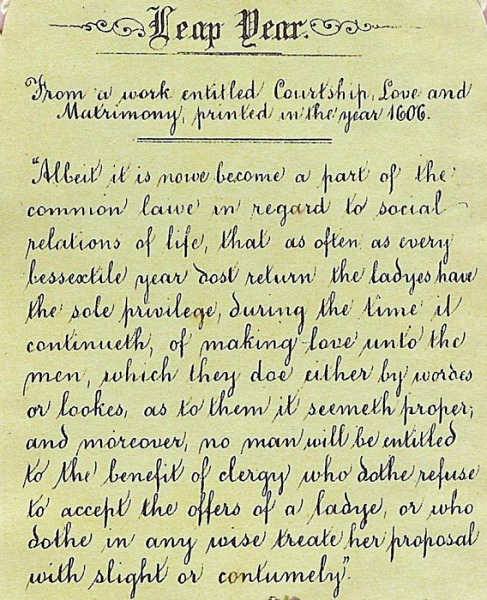 Detail of handwritten text in center of Leap Year Lace (above)



Detail of handwritten text at top of Leap Year Lace (above)


---
Small cards for everyday use - Love, Friendship, Birthday, Get Well, Anniversary, Wedding, etc. - the designs are timeless.

Cards are made on fine Fabriano Mediovalis handmade Italian paper; size is approximately 3 1/2" x 5 3/4". All are embellished with pure silver glitter for that extra special effect, and adapted from Victorian cards in the Nancy Rosin Collection.

Price $5.00 (minimum 2 pieces)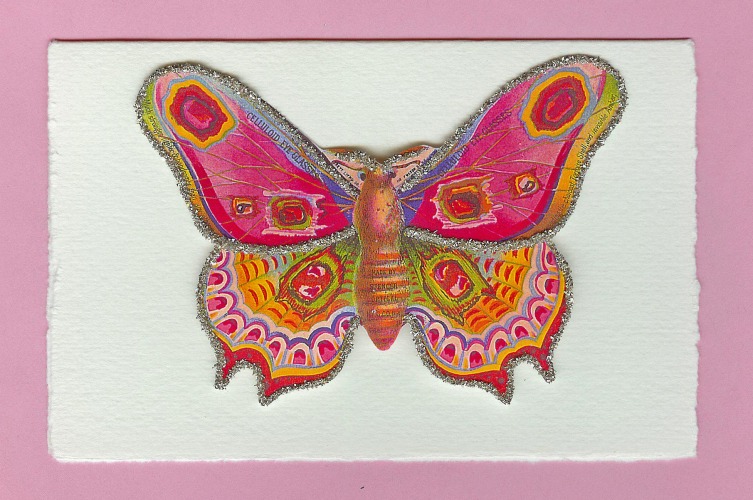 Butterfly - A happy fuchsia butterfly. Price $5.00 (minimum 2 pieces)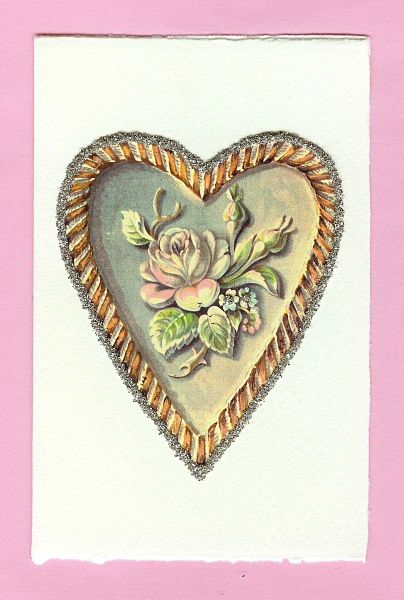 Heart - Elegance and simplicity. Price $5.00 (minimum 2 pieces)


Click here to see the rest of the original card products