Adding Flight to the Wings of Cupid: Postal Delivery of the Valentine
by Nancy Rosin

Article featured in The American Stamp Dealer & Collector magazine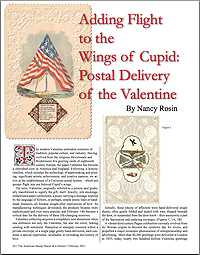 "The holiday was barely established in America when lovely Miss Solloway, the Milliner to Ms. Norton in Bromley, Kent, received this majestic hand-cut Valentine. Upon an engraved quarto sheet, the hand-colored image of a genteel couple inspires tenderness and promise -- home and distant spire evoke their future bliss. The cartouche is surrounded by a naively cut border, suggestive of lace and handwritten inside, a fervent love letter signed, Valentine 1803."
This is a special article that was published in the magazine The American Stamp Dealer & Collector magazine, which can be read in its entirety online at http://www.omagdigital.com/publication/?i=59317.

Click on this link to read the article, which will open in a separate window or browser tab. Or if you wish to save it to your hard disk for later, right-click on the link and select "Save As". (2.5MB in size)



The file is a PDF which means you can read it on any computer with free Adobe Reader software and print it on a laser or inkjet printer too. If you do not have Adobe Reader, you can download it from Adobe.

Full text of the article will be added later to allow indexing by search engines.


---
Images Copyright (c) 2013 by Nancy Rosin